Zakladam novu temu "Analogue Research Stations" ktora aby sa mohla venovat analogovym vyskumnym staniciam, ako napr.:

NEEMO, NASA Extreme Environment Mission Operations
MDRS, Mars Desert Research Station
FMARS, Flashline Mars Arctic Research Station
HI-SEAS Hawaii Space Exploration Analog and Simulation

a dalsim....
28.8.2015 zacina 365-denny experiment na stanici HI-SEAS.

http://www.hawaii.edu/news/2015/07/29/six-scientists-to-spend-365-days-in-isolation-for-hi-seas-simulated-mars-trip/


Austrian Space Forum uskutocnilo analogovu misiu "AMADEE-15"
http://www.oewf.org/en/2015/09/austrian-space-forum-successfully-concludes-mars-analog-mission-on-glacier/

V Polsku sa tento vikend uskutocnila European Rover Challenge:
http://roverchallenge.eu/en/

Program:
http://roverchallenge.eu/agenda-2/


[Upraveno 07.9.2015 Eudoxus]
Možná můžeme toto téma více zobecnit a rozšířit jeho záběr o kosmické simulační základny a izolační experimenty dalších agentur a institucí mimo USA.

Po dlouhodobém izolačním experimentu MARS 500, kterému jsme se věnovali v samostatném vláknu, se Moskevský Institut biomedicínských problémů rozhodl pro další akci podobného typu, nicméně v několika ohledech poměrně odlišnou.
Půjde o krátkodobý izolační experiment nazvaný LUNA 2015, mající simulovat let k Měsici a zpět. Izolace bude trvat pouze 8 dní a budou při ní využity stejné prostory, jako pro MARS 500.
Jako výzkumné subjekty se ho zúčastní 6 žen ve věku 25 - 34 let, dobrovolnic z řad zaměstnanců tohoto výzkumného ústavu. Start je naplánován na 28.10. t.r.
Cílem tohoto experimentu bude studium fyziologických změn u žen v izolaci a psychologie interakcí v čistě ženském koleltivu. (No comment)
http://newsaboutrussia.net/archives/1336


Web NASA s informaciami o Analogovych experimentoch:
http://www.nasa.gov/hrp/research/analogs/hera


Virtualna prehliadka MDRS v Utahu:
https://my.matterport.com/webgl_player/#model=kuTYkMU7Uet
Nasnimana v case pobytu crew 144:
http://mdrs.marssociety.org/home/crew-144
Archivne fotografie zo Sovietskeho experimentu BIOS-1 a BIOS-2:
http://englishrussia.com/2015/11/24/soviet-scientists-perfectly-knew-how-humans-could-live-out-of-the-earth/

WIKI: https://en.wikipedia.org/wiki/BIOS-3
Pravdepodobna poloha: 55°59'23,00" N092°45'41,91"E

[Upraveno 16.1.2016 Eudoxus] [Upraveno 16.1.2016 Eudoxus] [Upraveno 16.1.2016 Eudoxus] [Upraveno 16.1.2016 Eudoxus]
A Doctor Is Spending a Year in Antarctica to Research the Isolation of Space:
motherboard.vice.com

Info o aktivitach nasich susedov:
http://oewf.org/en/2016/04/first-analog-mission-basic-training-sign-good-things-come/

WHAT'S IT LIKE TO GO TO MARS AND BACK?
MARS500 CREW MEMBERS, IN THEIR OWN WORDS
http://www.popsci.com/what-its-like-to-go-to-mars-and-back
Such was the experience of the Mars500 crew--a team of 6 pseudo-astronauts who spent 520 days inside an isolation facility in Moscow as part of an experiment exploring the psychosocial challenges of a journey to Mars and back. The experiment finished in 2011, and hundreds of studies have analyzed the results of the longest spaceflight simulation in history. Now researchers from the Czech Republic have published a new analysis.
http://www.sciencedirect.com/science/article/pii/S0094576515301983
European Rover Challenge v Polsku:
10-13.9.2016
http://roverchallenge.eu/en/
50°7'2.396"N, 22°1'17.472"E [Upraveno 03.9.2016 Eudoxus]
Mock Mars Explorers Emerge from Habitat to End Year of Isolation in Hawaii
http://www.space.com/33881-one-year-mock-mars-mission-ends.html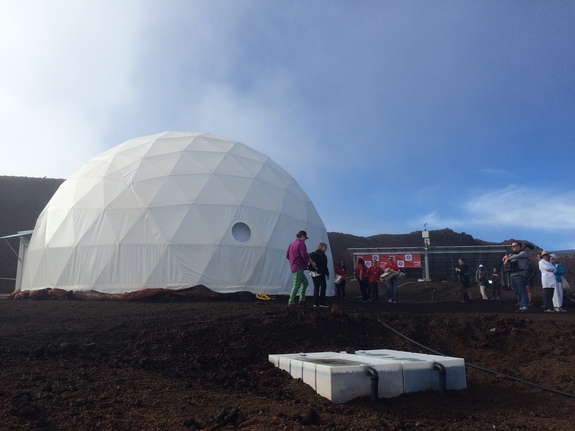 quote:

---

Mock Mars Explorers Emerge from Habitat to End Year of Isolation in Hawaii
http://www.space.com/33881-one-year-mock-mars-mission-ends.html


---

Konci zbierka na vytvorenie dokumentarneho filmu o izolacnom experimente na Hawaji:
A documentary film that follows six adventurers living for an entire year on simulated Mars.
https://www.kickstarter.com/projects/1049661970/red-heaven?ref=recommended

V Utahu, na MDRS bola zacata prva cast simulacie Mars 160 Mission , organizovana Mars Society.
http://mars160.marssociety.org/




doplnujuce info: http://www.space.com/34137-mock-mars-mission-mdrs-utah.html

Expedice 22 bude zahájena 18.6.2017 ve stanici Aquarius.

https://jscfeatures.jsc.nasa.gov/pages.ashx/654/NASA%20prepares%20for%20future%20space%20exploration%20with%20international%20undersea%20crew


Poláci "poletí" na Mars.
http://www.businessinsider.com/polish-mars-lunar-colony-pmas-2017-7
quote:

---

V Utahu, na MDRS bola zacata prva cast simulacie Mars 160 Mission , organizovana Mars Society.
http://mars160.marssociety.org/

doplnujuce info: http://www.space.com/34137-mock-mars-mission-mdrs-utah.html


---

Skoncila druha cast Mars 160:
http://fmars.marssociety.org/


Osmiměsíční pobyt v rámci mise HI-SEAS V skončil.

https://en.wikipedia.org/wiki/HI-SEAS#HI-SEAS_V
https://www.space.com/38180-hi-seas-8-month-mars-simulation-ends.html
quote:

---

Osmiměsíční pobyt v rámci mise HI-SEAS V skončil.

https://en.wikipedia.org/wiki/HI-SEAS#HI-SEAS_V
https://www.space.com/38180-hi-seas-8-month-mars-simulation-ends.html

---
https://www.novinky.cz/veda-skoly/449558-osm-mesicu-izolace-tym-vyzkousel-let-na-mars.html
"Marťanské město" v Dubaji pojali Arabové poměrně velkolepě.

http://www.mirror.co.uk/science/dubai-reveals-100m-martian-city-11251122
IMS (https://moonbasealliance.com/) by rád postavil analog měsíční základny na Hawaji.

https://www.space.com/38554-moon-base-analog-hawaii.html